Sunday Worship
April 30 @ 11:00 am

-

1:00 pm
11:00AM worship via Zoom & in-person @ CTK. 
To join Sunday LINK (use this with computer or smart phone).

To phone call: (646) 558-8656 — Mtg ID: 716 939 848 — Password: 050850   
To mail your offering — please send it to either: 

939 S. Danby Rd, Spencer NY. 14883 OR PO Box 367, Spencer, NY. 14883 (you can also drop it by the church during office hours if that's preferable)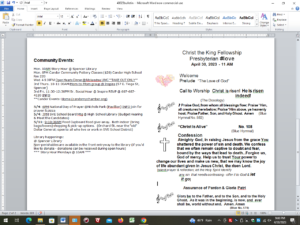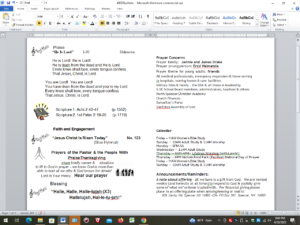 "Christ is Alive!"                Brian Wren
Christ is alive! Let Christians sing.
The cross stands empty to the sky.
Let streets and homes with praises ring.
Love, drowned in death, shall never die.
Christ is alive! No longer bound
to distant years in Palestine,
but saving, healing, here and now,
and touching every place and time.
In every insult, rift and war,
where color, scorn or wealth divide,
Christ suffers still, yet loves the more,
and lives, where even hope has died.
Women and men, in age and youth,
can feel the Spirit, hear the call,
and find the way, the life, the truth,
revealed in Jesus, freed for all.
Christ is alive, and comes to bring
good news to this and every age,
till earth and sky and ocean ring
with joy, with justice, love and praise.
"Jesus Christ Is Risen Today"   Lyra Davidica vs 1-3, Charles Wesley vs. 4
Jesus Christ is risen today, Alleluia!
Our triumphant holy day, Alleluia!
Who did once, upon the cross, Alleluia!​​​​
Suffer to redeem our loss, Alleluia!
Hymns of praise then let us sing, Alleluia!
Unto Christ, our heavenly King, Alleluia!
Who endured the cross and grave, Alleluia!
Sinners to redeem and save, Alleluia!
But the pains which He endured, Alleluia!
Our salvation hath procured, Alleluia!
Now above the sky He's king, Alleluia!
Where the angels ever sing, Alleluia!
Sing we to our God above, Alleluia!
Praise eternal as His love, Alleluia!
Praise Him, all you heavenly host, Alleluia!
Father, Son, and Holy Ghost, Alleluia!