Sunday Worship
May 7 @ 11:00 am

-

1:00 pm
11:00AM worship via Zoom & in-person @ CTK. 
To join Sunday LINK (use this with computer or smart phone).

To phone call: (646) 558-8656 — Mtg ID: 716 939 848 — Password: 050850   
To mail your offering — please send it to either: 

939 S. Danby Rd, Spencer NY. 14883 OR PO Box 367, Spencer, NY. 14883 (you can also drop it by the church during office hours if that's preferable)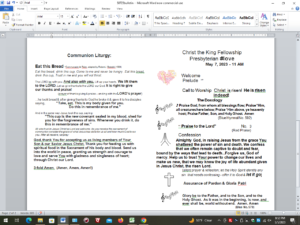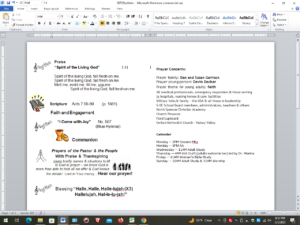 "Praise to the Lord"                   Joachim Neander
Praise to the Lord, the Almighty, the King of creation!
Oh, my soul, praise Him, for He is thy health and salvation!
All ye who hear: now to His temple draw near,
Join me in glad adoration.
Praise to the Lord, who o'er all things so wondrously reigneth,
Shelters thee under His wings, yea, so gently sustaineth!
Hast thou not seen how thy desires have been
Granted in what He ordaineth?
Praise to the Lord, who doth prosper thy work and defend thee!
Surely His goodness and mercy here daily attend thee;
Ponder anew what the Almighty can do
If with His love He befriend thee.
Praise to the Lord, O let all that is in me adore Him!
All that hath life and breath: come now with praises before Him!
Let the amen sound from His people again!
Gladly forever adore Him.
 "I Come with Joy"           Brian Wren
I come with joy, a child of God,
       forgiven, loved and free,
the life of Jesus to recall,
       in love laid down for me.

I come with Christians far and near
       to find, as all are fed,
the new community of love
       in Christ's communion bread.

As Christ breaks bread, and bids us share,
       each proud division ends.
The love that made us, makes us one,
       and strangers now are friends.

The Spirit of the risen Christ,
       unseen, but ever near,
is in such friendship better known,
       alive among us here.

*A cloud of loving witnesses
	surrounds us while we sing
as all the saints, forgiven, loved,
	immortal praises bring.

Together met, together bound
       by all that God has done,
we'll go with joy, to give the world
       the love that makes us one.
—
Christ the King Fellowship Presbyterian Church
Rev. Sabrina Slater, Pastor
#love
#Mt.22:37-39
"You shall LOVE the Lord your God with all your heart and with all your soul and with all your mind.  This is the great and first commandment.  And a second is like it: You shall LOVE your neighbor as yourself."       (Jesus)