Sunday Worship
October 16, 2022 @ 11:00 am

-

1:00 pm
11AM worship via Zoom & in-person @ CTK. 
To join Sunday LINK (use this with computer or smart phone).
To phone call: (646) 558-8656 — Mtg ID: 716 939 848 — Password: 050850
To mail your offering — please send it to either:

939 S. Danby Rd, Spencer NY. 14883 OR PO Box 367, Spencer, NY. 14883 (you can also drop it by the church during office hours if that's preferable)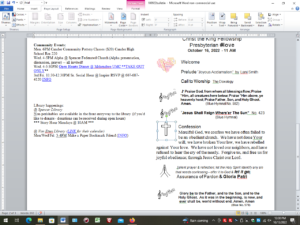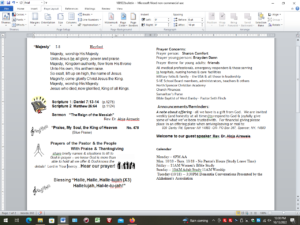 "Jesus Shall Reign Where'er the Sun"            Isaac Watts
1 Jesus shall reign where'er the sun
does its successive journeys run,
his kingdom stretch from shore to shore,
till moons shall wax and wane no more.
2 To him shall endless prayer be made,
and praises throng to crown his head.
His name like sweet perfume shall rise
with every morning sacrifice.
3 People and realms of every tongue
dwell on his love with sweetest song,
and infant voices shall proclaim
their early blessings on his name.
4 Blessings abound where'er he reigns:
the prisoners leap to lose their chains,
the weary find eternal rest,
and all who suffer want are blest.
5 Let every creature rise and bring
the highest honors to our King,
angels descend with songs again,
and earth repeat the loud amen.
"Praise , My Soul, the King of Heaven"     Henry Francis Lyte
1 Praise, my soul, the King of heaven;
to his feet your tribute bring.
Ransomed, healed, restored, forgiven,
evermore his praises sing.
Alleluia, alleluia!
Praise the everlasting King!
2 Praise him for his grace and favor
to his people in distress.
Praise him, still the same as ever,
slow to chide, and swift to bless.
Alleluia, alleluia!
Glorious in his faithfulness!
3 Fatherlike he tends and spares us;
well our feeble frame he knows.
In his hand he gently bears us,
rescues us from all our foes.
Alleluia, alleluia!
Widely yet his mercy flows!
4 Angels, help us to adore him;
you behold him face to face.
Sun and moon, bow down before him,
dwellers all in time and space.
Alleluia, alleluia!
Praise with us the God of grace!