Sunday Worship 4-3-2022 11:00 AM
April 3 @ 11:00 am

-

1:00 pm
11 AM worship via Zoom & in-person @ CTK. 
To join Sunday LINK (use this with computer or smart phone).
To phone call: (646) 558-8656 — Mtg ID: 716 939 848 — Password: 050850
To mail your offering — please send it to either:

939 S. Danby Rd, Spencer NY. 14883 OR PO Box 367, Spencer, NY. 14883 (you can also drop it by the church during office hours if that's preferable)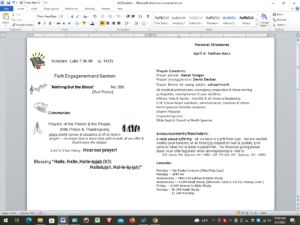 "Joyful, Joyful"     Ludwig Beethoven
Lord, we adore Thee
God of glory
Lord of love
Hearts unfold like flowers before Thee
Hail Thee as the sun above
Melt the clouds of sin and sadness
Drive the dark of doubt away
Giver of immortal gladness
Fill us with the light
Fill us with the light
Oh, fill us with the light of day
All Thy works with joy surround Thee,
Earth and heaven reflect Thy rays,
Stars and angels sing around Thee,
Center of unbroken praise:
Field and forest, vale and mountain,
Blooming meadow, flashing sea,
Chanting bird and flowing fountain
Call us to rejoice in Thee.
Thou art giving and forgiving,
Ever blessing, ever blest,
Well-spring of the joy of living,
Ocean-depth of happy rest!
Thou our Father, Christ our brother,
All who live in love are Thine:
Teach us how to love each other,
Lift us to the joy divine.
Mortals, join the mighty chorus,
Which the morning stars began;
Father-love is reigning o'er us,
Brother-love binds man to man.
Ever singing march we onward,
Victors in the midst of strife,
Joyful music leads us sunward
In the triumph song of life.
"Nothing But the Blood"     Robert Lowry
1 What can wash away my sin?
Nothing but the blood of Jesus.
What can make me whole again?
Nothing but the blood of Jesus.
Refrain:
O precious is the flow
that makes me white as snow;
no other fount I know;
nothing but the blood of Jesus.
2 For my pardon this I see:
nothing but the blood of Jesus.
For my cleansing this my plea:
nothing but the blood of Jesus. [Refrain]
3 Nothing can for sin atone:
nothing but the blood of Jesus.
Naught of good that I have done:
nothing but the blood of Jesus. [Refrain]
4 This is all my hope and peace:
nothing but the blood of Jesus.
This is all my righteousness:
nothing but the blood of Jesus. [Refrain]
United Methodist Hymnal, 1989