Sunday Worship Service April 10, 2022 11:00 AM
April 10, 2022 @ 11:00 am

-

1:00 pm
11AM worship via Zoom & in-person @ CTK. 
To join Sunday LINK (use this with computer or smart phone).
To phone call: (646) 558-8656 — Mtg ID: 716 939 848 — Password: 050850
To mail your offering — please send it to either:

939 S. Danby Rd, Spencer NY. 14883 OR PO Box 367, Spencer, NY. 14883 (you can also drop it by the church during office hours if that's preferable)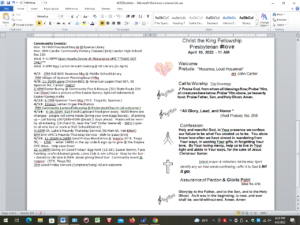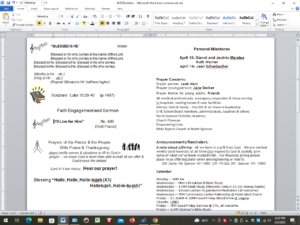 "All Glory, Laud and Honor"   Melchior Teschner
1. All glory, laud, and honor

To thee, Redeemer, King,

To whom the lips of children

Made sweet hosannas ring.

Thou art the King of Israel,

Thou David's royal Son,

Who in the Lord's name comest,

The King and Blessed One.

2. The company of angels

Are praising thee on high,

And mortal men and all things

Created make reply.

The people of the Hebrews

With palms before thee went;

Our praise and love and anthems

Before thee we present.

3. To thee, before thy passion,

They sang their hymns of praise;

To thee, now high exalted,

Our melody we raise.

Thou didst accept their praises;

Accept the praise we bring,

Who in all good delightest,

Thou good and gracious King.
 "I'll Live for Him"               C.R. Dunbar
1 My life, my love I give to Thee,
Thou Lamb of God who died for me;
O may I ever faithful be,
My Savior and my God!
Refrain:
I'll live for him who died for me,
How happy then my life shall be!
I'll live for him who died for me,
My Savior and my God!
2 I now believe thou dost receive,
For Thou hast died That I might live;
And now henceforth I'll trust in Thee,
My Savior and my God! [Refrain]
3 O Thou who died on Calvary,
To save my soul and make me free;
I'll consecrate My life to Thee,
My Savior and my God! [Refrain]